It's all about the community. Founder Ronnie Megginson knew from the beginning that community is what builds us as people. When we give to our community, it gives to us. And we all get stronger for it. And through Kulture Vibez, we get this sense of style that bridges all of our communities together. Urban clothing, streetwear clothing. Because every culture has its urban side.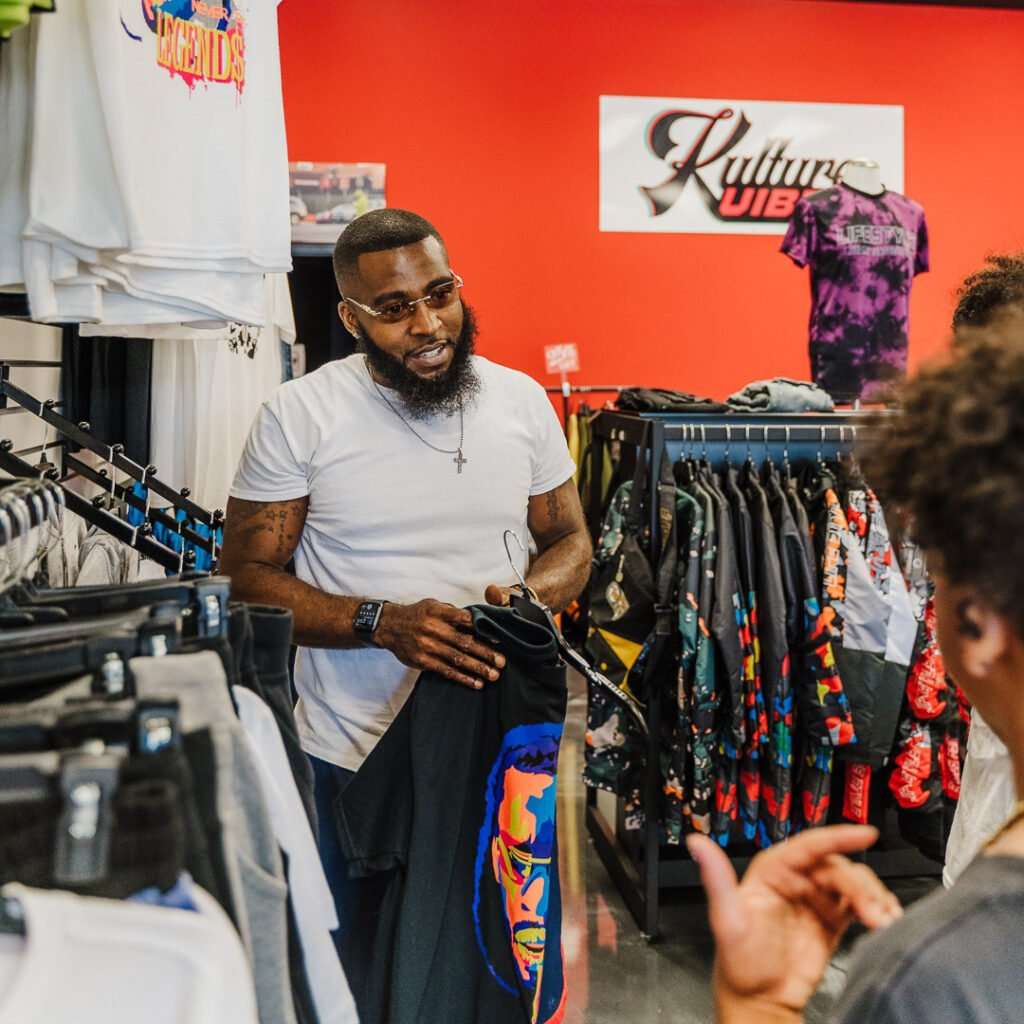 On Juneteenth 2020, Ronnie filed the paperwork to turn Kulture Vibez into a Virginia business. It was born from the powerful first impression he got from a DTLR store as a kid. It planted a seed in his heart that sprouted out during the economic turmoil of Covid. The launch date was especially significant as a black-owned business. A new business for the urban community represents its own kind of modern freedom – economic, stylistic and culture-driven. Kulture Vibez is both a place where people can gather and a brand they can get behind to feel connected.
After a successful run at a small location on Angus Road, Ronnie moved the shop to Stonefield, the outdoor mall and shopping area in Charlottesville. It's a perfect location in the shopping district north of town. Here, they're accessible to all communities and everyone feels welcome, on equal footing.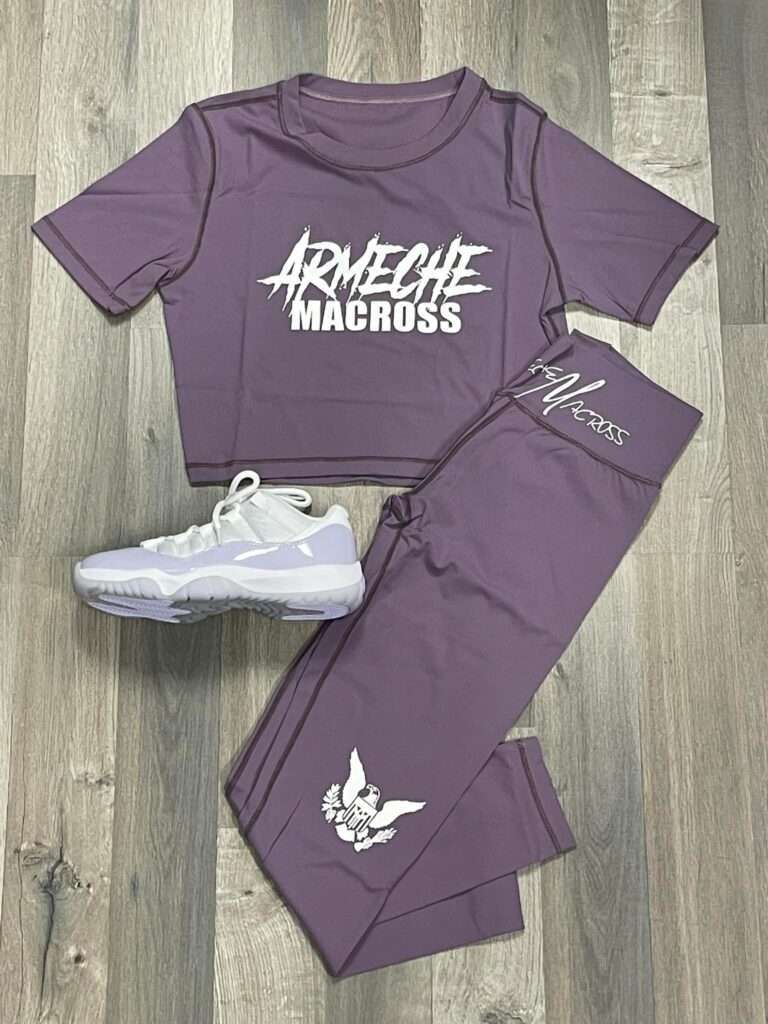 Starting with the feet, they have Jordans, Nikes as any respectable streetwear shop would. They have Northface and Perry Ellis and a bunch of other brands you need to see. What they also have that's hot but rare is local clothing designers – Vinegar Hill, Armeche Macross, Moving Different, Be Great. This is a collection of styles that you can't find just anywhere. There's a method and consistency to the Kulture Vibez clothing collection – it all works together for style, quality and the all-around loving experience. Appreciation is something you feel as soon as you walk through the door.
If you didn't know, national brands have some requirements for what products they allow to be near them or even in the same store. If they don't like your setup, they pull theirs. To make sure his local clothing artists have a fighting change, Ronnie helps them with their craft and business to make sure it's up to quality. You gotta love how we makes Kulture Vibez' success help others succeed.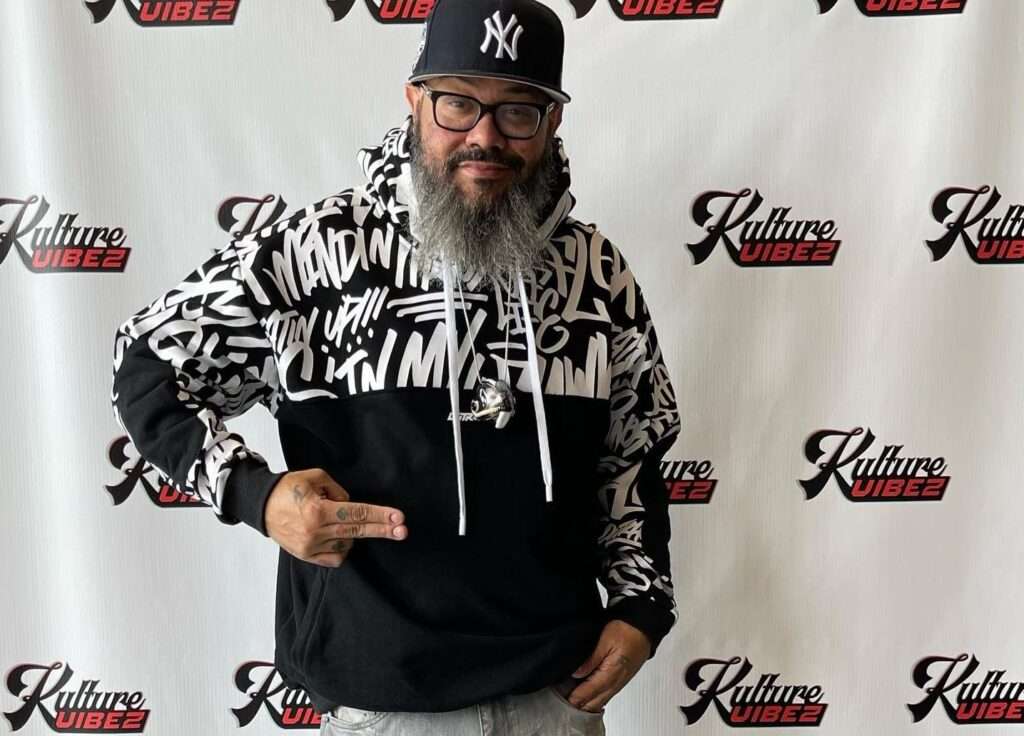 Hip hop is a big influence on the style of the street wear clothes and accessories. You can see that in all of the merch for sale. But if you have your own message for streetwear, their In-house custom screen printing and embroidery makes just about anything possible. Happy customers (there are a lot — check the 5-star ratings on Google) get to showcase their looks when they check out with a photo shoot in front of the Kulture's logo screen. Check their Facebook or Instagram to see who's showing up for their fresh urban street wear.
The Kulture Vibez team isn't just a bunch of employees. Ronnie approaches his team with the African proverb in mind: each one teach one. A true boss is actually a mentor. Everyone knows that they have a purpose and he's determined to help his people find it. It's obvious that he feels fortunate to have found his.
Speaking of what's possible, Kulture Vibez also blends in Ronnie's entertainment gigs. Prior to starting Kulture Vibez clothing, Ronnie started King Ron Entertainment to book local artists. He keeps the tradition up with local music events posted here.
In the meantime, if you're shopping for some fresh urban streetwear styles on social media, also check out their YouTube and TikTok channels.
With the success of the Stonefield clothing and merch shop, additional locations are being planned. The way he talks, and that gleam in his eye, it seems like the west coast isn't far behind.