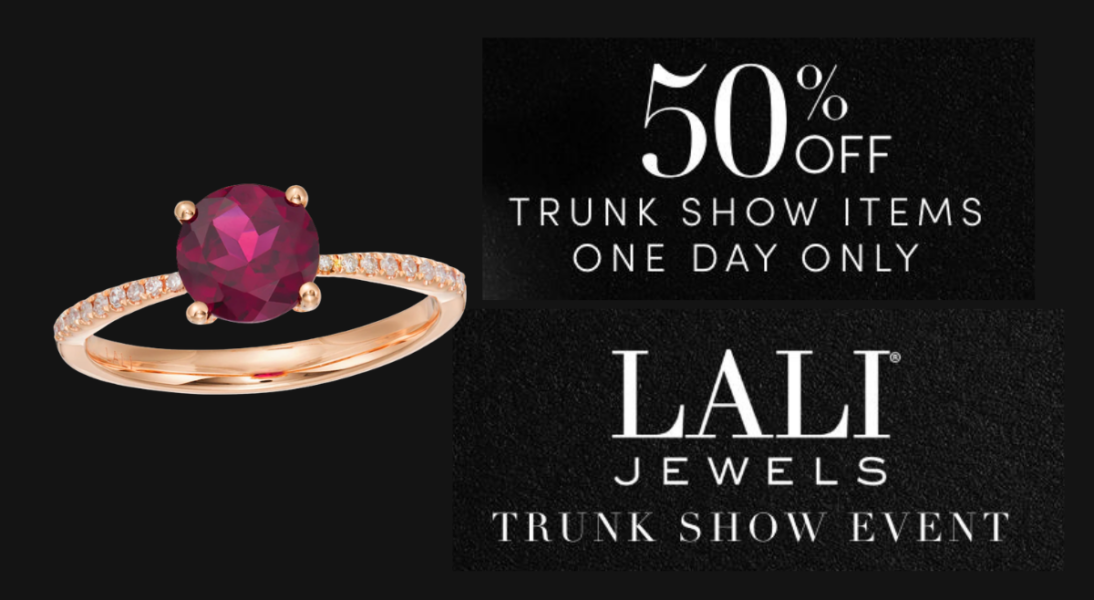 LALI JEWELS TRUNK SHOW EVENT
16
16 people viewed this event.
Don't miss this exclusive opportunity to explore hundreds of exciting new pieces, receive a special gift with purchase and enjoy a unique trunk show experience. Trunk Show items are 50% off for one day only! Schedule an appointment prior to the show and receive an extra 20% off you trunk show purchases.
Join LALI Jewels for an exclusive One Day Only Fine Jewelry event in a Jared store near you. LALI Jewels is a family owned and operated jewelry business. Started by brothers, Arun & Adam Bassalali in 2015, LALI Jewels offers the finest and most beautiful gemstones and diamond fashion.
These events will feature luxury jewelry pieces at affordable pieces while specializing in one-of-kind and limited-edition pieces.
Wednesday, March 15, 2023
Event Highlights
There is something for everyone in the LALI Jewels Collection.
Every piece of jewelry you purchase comes with a Limited Lifetime Warranty and Certificate of Authenticity.
Our knowledgeable sales representative will help you explore hundreds of beautiful luxury pieces while providing outstanding customer service and jewelry knowledge.
The exclusive show specials will be a great addition to your jewelry collection.
Find out more here.