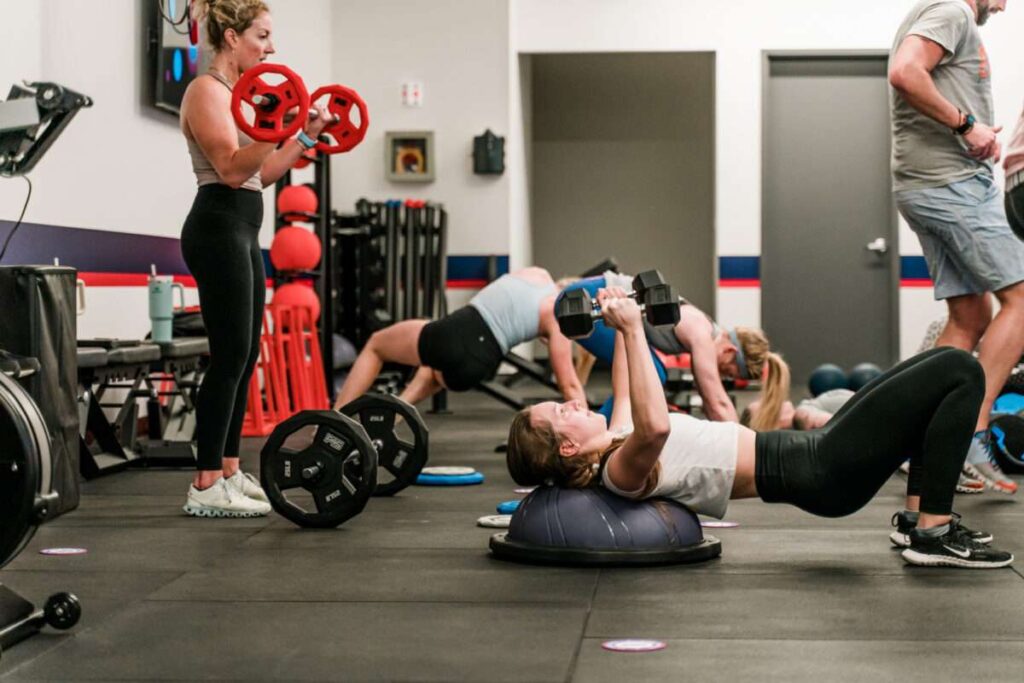 Changing lives. Two words that play out every day at F45 Fitness. It's a short phrase that runs deep. Helping people make a difference in their health and wellness is what gets Sonya and Bill up early in the morning.
They are equal parts personal trainers, fitness coaches, and inspirational health leaders. As fitness coaches with 23 years of experience, they've seen a positive impact many times over.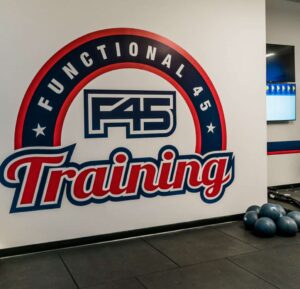 F45 is more specialized than a big-box gym. With its twin focus on peer support and professionally designed workouts, the result is a fitness studio where people work hard, get fit and enjoy doing it. F45 brings its own spin to functional high intensity interval training (HIIT).
The diversity of exercises is a one of the critical factors to total-body workouts. It's a great solution that lets participants avoid the inevitable boredom that comes from the standard, repetitive gym workouts. 
The fitness studio has a huge variety of workouts that can be adjusted to match any fitness level. The flexibility of the exercises makes it so that multigenerational families and people of all fitness levels can find a robust workout here.
The workout programs come from a team of professional trainers at HQ that are constantly developing new exercise HIIT routines which draw from a collection of about 4000 exercises. No two workouts ever the same.
Workouts are different every day, so it's also a new experience each day. No pressure, all at your own level allows people to push when they can, take it easy when they need to. Each of their exercise routines are built to work everything in a body without repeating the same motions. The high intensity workouts cover speed, agility, balance, strength, cardio.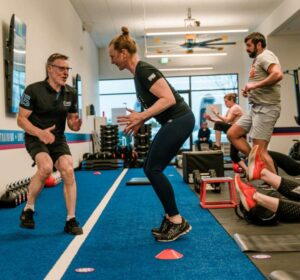 Group workouts are another critical factor for success. Sonya, Bill and the F45 team have created a motivating community with an electric atmosphere that supports the individual's spirit and motivation in addition to the weight loss, stamina and muscle building. The sense of community is so noticeable that it's been called the "Cheers" of workout places. People see their friends, peers and comrades here, running through the same exercises and supporting each other. 
In each class, there are two certified personal trainers to guide people on their journey to success. That allows participants to get one-on-one training which helps with form, levels of effort and viability. Since the workouts are in a group setting they also help build the social support factor. Visitors get personal attention as in a private gym, can work out with friends, family and people on the same journey. The trainers to keep an eye on everyone for posture adjustments and moral support.
The energetic music, a special F45-curated playlist, is an undeniable presence too. Top hits remixed with dance hall beats make it easy to lose yourself and focus on the work and the fun. They host live DJs monthly to add even more energy to the mix. F45 also runs some outdoor bootcamp events that are open to the public. The last one – held on a cold, windy, winter day – saw 23 people show up.
Located across from the open grass field at Stonefield, the Charlottesville location of F45 Training is one of over 1,800 F45 fitness studios across the nation. That's a testament to how popular the F45 formula is. In fact, the franchises is among the top 40 fastest growing franchises in US and Canada according to Entrepreneur magazine.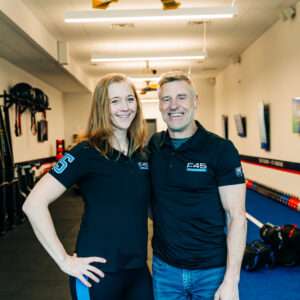 It's a pretty cool feeling to know that you're part of an even larger community of people that are doing the same workouts around the world. How's that for community support?
Stonefield is an excellent location in a fitness-minded community. People in Charlottesville tend to be very health conscious and support many modes of exercise. Fitness is a part of life, not something removed from it. Stonefield, with its outdoor mall, park and walk ethos, open space, lends itself to that more so than a strip mall or warehouse district. The mixed use plan of Stonefield makes for a nice mix of people and a great spot among the community.
"My counselor told me this week "keep doing whatever you are doing because it's helping in big big ways" Walking in those gym doors was more than just getting back into the gym. I had a really tough past two years, andthis was a huge step for me in a lot of ways. I love that even those who don't know my story, can still see a change and want in on what these classes offer!! So when I say I appreciate the support from you guys, I mean it."