You know the saying that seeing is believing. The same is true of feeling. When people feel the change they know they came to the right place. Hearing reports of plantar fasciitis relief and testimonials from customers from regular folks to top athletes, we were intrigued. We spoke with Jonathan Cotten, owner of The Good Feet Store to find out what's going on.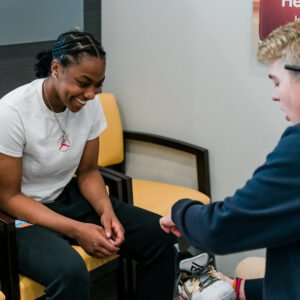 The fitting process is very hands-on to make sure customers have the best fit. With the range of styles and sizes, they find something that fits exactly to each person's foot. It's predictable, repeatable, and yields results time after time. Their three-part system is made up of a series of inserts to accommodate a customer's activity. Like dental braces, they want to keep the foot aligned and nudge it gently back into its naturally healthy shape. Depending on the activity, the nudging is increased or decreased. The insert set includes a strengthener to get foot into the ideal position, a maintainer to support the foot without moving it much, and a relaxer to let the feet chill.
At first, there's a puzzling absence of shoes for a store with a name like Good Feet. But eventually, it becomes clear that they have a product in a category all its own that transcend shoes. At first, there's a puzzling absence of shoes for a store with a name like Good Feet. But eventually, it becomes clear that they have a product in a category all its own. They work in a hidden space between shoe stores and the medical field.  
Many people swear by good shoes for their feet. They're absolutely right. Some mass produced shoes have good support for the arch. But what's not common knowledge that the foot is arched in more than one direction. While some shoes and even arch supporting inserts address the medial longitudinal arch – the big one that we're all familiar with – they often don't do much for the transverse arch or lateral longitudinal arch.  And then there's the proximal transverse arch… Taken altogether, the foot has a fairly complicated geometry that usually is nowhere near as flat as our shoes. Imagining mashing all of that against a hard, flat surface. 
We spend most of our time on unforgiving surfaces that push our feet out of whack. What seems to work really well for people is bringing the foot back to its natural shape.  With the variety of models they have, they're able to look at the nuanced curves of all the arches, plus the size, activity level and shoes of the wearer.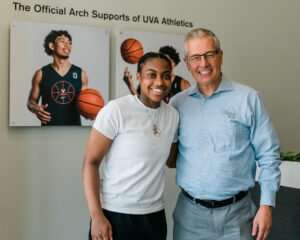 Some basic science: When we're on soft surfaces, they give way and adjust to fit our feet.  When we're on hard surface, our bones move to match the surface. This sets off a chain reaction in our posture and balance. If our feet are flexible and strong, they handle it well. But if not, the flexible parts of our body make up the difference. 
When people have plantar fasciitis, one of the top treatments is to get foot cushions. That's the right idea, because a softer surface will conform. However, the foot also needs support.  A lot of customers said their back, knee and foot pains went away after spending some time with these nifty inserts. 
As a business owner, Johnathan knows that when businesses support the community, they are part of the proverbial rising tide that lifts all boats.  They thrive on connecting people, hear their experiences, and finding a way to support them. They strive to do that in all communities they are in. Charlottesville is the 18th store in our group, and there are franchisees around the country. 
 "I've been the beneficiary of many blessings. We walk beside people on their journey. It is more blessed to give than receive. We've been fortunate we feel an obligation to the community, regardless of if they are customers." – Johnathan Cotten
Speaking of community, opening a shop in Stonefield has been a happy home-coming for Jonathan. Growing up in Crozet back when Stonefield actually was a field. He remembers a Safeway food store on the corner of Hydraulic and 29 and when there was a drive-in theatre on the opposite corner. 
Proximity to downtown and location are great of course but the most compelling think about the place for him as a retailed is the quality and diversity of the other retailers. "We mostly look for partnerships. Stonefield is about creating great partnerships, creating a thriving environment to benefit customers, neighbors and retailers."