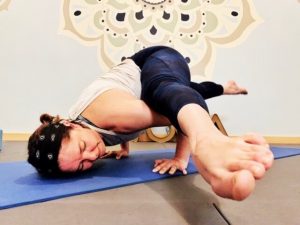 We've all heard the expression "Shop Local" dozens of times. Sounds good I guess, but why bother? It's simple: economics and community building. Businesses pay employees and employees spend money at businesses. When we shop in our local community, we support jobs in our local community. When we send our money away, and we support jobs outside of the community. It's hard to argue with the cost savings and convenience of online shopping, but let me try… 
There's a quality of life question at play. When you shop local, you go to a store, and there you may run into a neighbor or friend. You may make more connections. You'll certainly see people smiling and thanking you personally for your purchase. And they'll actually mean it. No robots sending you automated thank you receipts for your records. With spring in the air, and Stonefield being an outdoor mall in Charlottesville, it's a great time to get out and see what's happening in the community. You may actually enrich your life. 
Local shops also tend to curate more for their local market, so you'll get some amazing finds that are hard to get other places. They know about gear for summer camps, and back to school trends that are happening in our area.
Local retail stores like Whimsies help kinds find clothes and toys that fit them personally. They can touch and interact things in real life before deciding on a purchase. They can see other kids interacting, and enjoy the thrill of discovery. Like many other local clothing stores, Poshabilities women's clothing lets you browse and try on things, mix and match outfits – you just can't do this stuff online.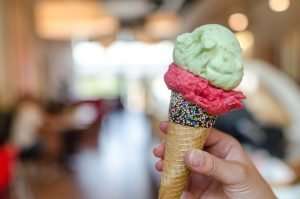 The Sneaker Thrift lets you engage as buyer, seller and trader of quality sneakers in Charlottesville, Va. And like other local shops, you can chat up the help and shoot the breeze about your favorite brands, fashion trends, and whose wearing what this month. The variety is always fresh and the options are there for the taking.
While we're plugging some of our local favorites… anyone that likes cool, creamy scoops adores Splendora's Gelato Cafe. Originally opened on Charlottesville's Downtown Mall, it is now open at its new home in the Shops at Stonefield. We are also fond of our crew at The Elements Hot Yoga studio. Visit them both in one day and you'll see how much love there is to go around in our Charlottesville shops.
So, while we're all busy and love the convenience of point-and-click shopping, there's so much more to gain from shopping locally, seeing friends, neighbors and acquaintances, and basking in the community experiences that we all share. These are the things that make a city a home. The Shops at Stonefield is just that kind of place to make you feel at home.